Hi there!  How was your weekend?  I seem to always start these posts by telling you what kind of weather we had over the weekend.  It's summer here in Australia so it should be scorching hot – and it some parts of the country it is.  But right now in Bunbury, we're averaging a maximum of 30 during the day and an overnight minimum of 15 degrees (that's in celsius).  It's glorious!  Sunny days as far as I can see!!!
The downside to such lovely weather is less time spent indoors, so I'm pulling together craft projects when I can find the time!  Sleep?  Who needs to be in bed before midnight???
The theme for CASEing the Catty this week has rolled back around to Sale-A-Bration – which is handy because we've hit the half way mark and Stampin' Up! have released some cute new products to earn!  You can view the second release brochure by clicking here.
As a demonstrator, I was able to pre-order some of these amazing products during the first half of the month.  It's lovely to be able to access #demoperks!!!  You can too if you join my Paper Adventures team!
My absolute hands-down, no-question favourite item from the second release is the Country Floral Embossing Folder.  It's soooooooo pretty!  It's often hard to see the full texture & detail of embossing folders in catalogues, so I hope you've got another $90 on your wishlist and you can redeem this gorgeous folder for yourself.
This is the card I chose to CASE from the second release Sale-A-Bration catalogue.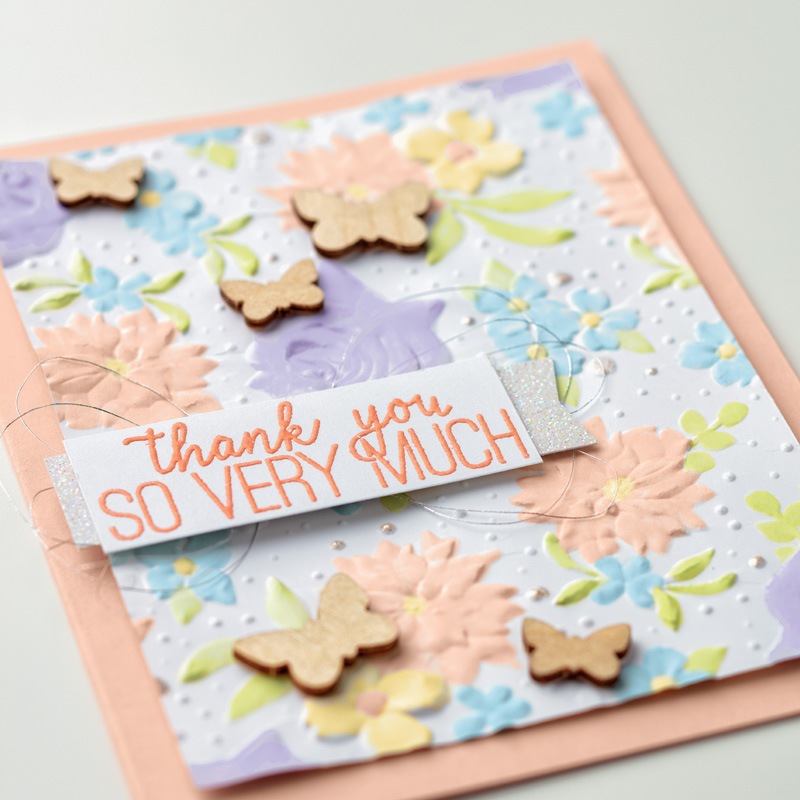 Initially when I looked at this I thought they'd embossed DSP and it was the DSP that had provided the colour.  When I couldn't see this pattern in the DSP I realised they'd coloured all the individual elements of the embossed image – wow!!!
By this point though, I was kind of excited to emboss DSP.  Other than cutting it, I rarely tamper with DSP – it was time to change things up!!!
My DSP of choice for this card was another new Sale-A-Bration product – the DSP available in the Painted Seasons bundle (DSP + stamp set).  I ran it through the Big Shot with the Country Floral embossing folder and then rubbed a sponge dauber across the raised surfaces using Coastal Cabana ink.  It was very rough and I love the effect of the coloured embossed sections and the natural pattern of the DSP underneath.
I finished the card with the 'amazing' sentiment from the Incredible Like You stamp set, some Mint Macron Nature's Twine (from the Annual Catalogue), White Flax Ribbon and a Butterfly Element coated in Frost White Shimmer Mist.
This card was so much fun, I decided to create another couple of colour combinations.
Here it is in Blushing Bride using Tropical Escape DSP…
And also in Rich Razzleberry using a pattern from the Tea Room DSP.  This one was a little more interesting as the butterflies on the DSP form part of the image!
By some crazy coincidence, the colours in the Nature's Twine pack matched my DSP choices perfectly!  I'm just missing a Crumb Cake creation!!!
To place an order and select your FREE (with any $90+ order) Country Floral Embossing Folder, visit my online store.  It's available until 31st March unless stocks run out earlier.
---
Join our challenge this week by creating a project inspired by the pages of either of the Sale-A-Bration catalogues.  Click here to share it in our Facebook group.
There's more great inspiration to come – keep following the hop by clicking on the 'next' icon.
From here, you're heading to Rockhampton (much hotter days & nights there at the moment!) to visit Elizabeth Gross.  Liz and I have been giggling at week at how similar a couple of our projects are – we're very much on the same creative wavelength at the moment!!
Thanks for joining us!!!  Have a great week!
---
Product List