Hello – thanks for joining me & my international stamping friends for another Stamp Review Crew hop.
Today's theme is Sweet Cupcake.  This was one of the first sets I remember Stampin' Up! releasing that had a truly 3D theme using 3 step stamping.  When you get the cupcake & candle pieces lined up just right – the effect is amazing!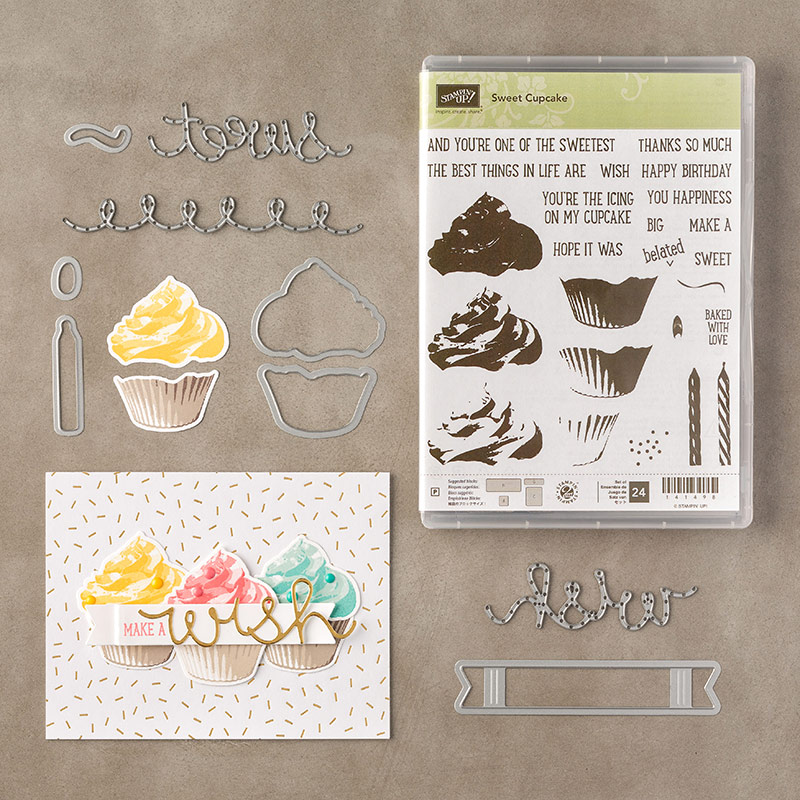 Both of these items are on the retirement list – and the framelits are available at a 20% discount in the South Pacific (Australian & New Zealand) market.  Until 31st May 2018 or stocks run out.
I've used the Sweet Cupcake stamp set with some other retiring favourites to create a very pretty pink card!!!  As well as Calypso Coral & Blushing bride for the cupcake, I've snuck in the new Petal Pink cardstock (available 1st June 2018).
I was a little stumped on what I could make with this stamp set that was different to what was already floating about on Pinterest.  So, I left my creating til the very last minute!!!  Inspiration did finally strike thanks to Katrina Duffell who was the guest designer for our team hop on Friday evening.
Katrina created a gorgeous card where she stamped directly onto a Delicate White Doily.  The result was sensational – and I thought I'd try it out with the cupcake stamps.
Doesn't it look cute!!!
The card was finished with pretty pink DSP from the Sweet Soiree Specialty DSP in the Occasions catalogue (also retiring), the happy birthday sentiment from the Sweet Cupcake stamp set (one of my favourite happy birthdays!) and some Glitter Enamel Dots (on the retirement list also!!).   There was quite a liberal use of Wink of Stella to finish the cupcake (thankfully not on the retirement list – sparkles finish every card perfectly!).
I went from uninspired to loving the final product!  Thanks Katrina.  You can see her inspirational card by clicking here.
I can't wait for you to see what the rest of the crew create using this stamp set!  Next up is the amazingly talented Jay Soriano in the UK –
Thanks for hopping with us.  Don't forget to shop online for all your retirement list favourites before they are sold out.
---
Product List