Hello and welcome to the safest way to travel the world at the moment – through an international blog hop!  You're currently visiting Kelly Kent in the South West of Australia, having jumped over from Nikki Spencer on the eastern coast.  This is my favourite beach to take the kids to swim – the inner harbour.  It's always calm and is a great shallow depth for the kids to splash around in.
With COVID-19 having impact across the globe, I want to take the chance to give you a virtual hug and pass on my thoughts that you are all healthy & safe.
This virus is somewhat all consuming at the moment – it's on tv, in social media and in everyday conversations.  In fact, unless you are in total media & social blackout, it's very hard to avoid.  And that can be overwhelming and scary.  I love this Fred Rogers quote – look for the helpers!
Scientists are rapidly building their knowledge of the virus and it's behaviour, our public health teams are working around the clock to give guidance on policy & procedures that will keep us as safe as we know how and our global medical teams are amazingly taking care of business as people become unwell.
For anyone who ends up in some form of quarantine, isolation or social distancing, I hope your craft room provides you with some solace.  If there was ever a time to hibernate and craft til your heart is content – this is it!
---
The Stamp Review Crew are today sharing projects inspired by the Dressed to Impress stamp set and Best Dressed suite.  We hope we can provide you with some inspiration on how to use your supplies at home.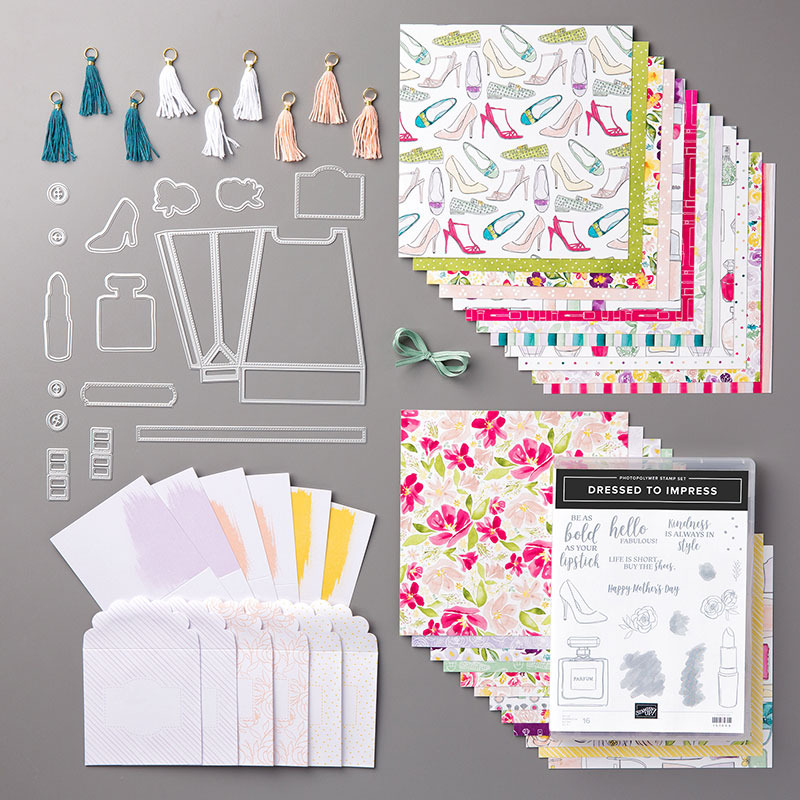 I love the mix of floral and cosmetic images in this suite.  So I've mixed those two themes to create this sweet card.
The card base & base layer are Rococo Rose cardstock with Subtle Embossing Folder.  The background flowers were stamped in Tuxedo Black Memento Ink and then coloured in Stampin Blends (Rococo Rose, Pink Pirouette, Petal Pink, Pretty Peacock).
The centrepiece is labels from the Stitched So Sweetly Dies in Blushing Bride & Mint Macaron with a perfume bottle stamped in Memento & coloured with Rococo Rose & Pink Pirouette Stampin' Blends. I love being able to make the perfume pink.  The matching dies (All Dressed Up) take away the need to fussy cut any of these images!
While I was studying at university to be a Speech Pathologist, I worked at a department store, and for most of my 5 years there, I worked in the cosmetics department.  I spent my weekends selling lotions & potions, perfumes & sprays, lipsticks & eyeshadows.  The perfumes in particular were always so mesmerising, in their fancy bottles and with their beautiful scents.  Chanel #5 is undoubtedly one their most recognised scents, but the pretty pink "Chance" was one of my favourites!
I've made this card into a Mother's Day card, which is very organised for last-minute-me!  Please remind me of where I have stored it in 2 months time!!!
Next visit is to Charlet Mallett in the US –
Thank you for joining us!