Hello!  How was your weekend?  Welcome to another CASEing the Catty blog hop.  Today's theme is a whole page of layouts from the 2019-2020 Annual Catalogue to CASE.
I have chosen the card at the top left – with the gorgeous embossing.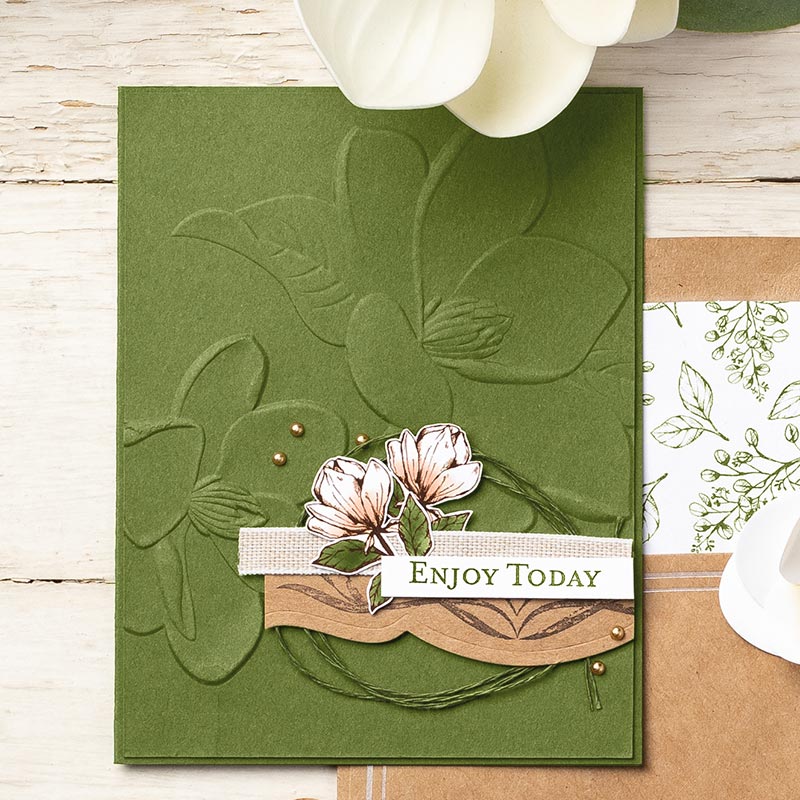 I've got a few new products I've been itching to play with, so I've used this layout to try out the new Dinoroar suite.
I kept the embossed background but changed it to one of the new 3D embossing folders – Mosaic.
Note about the new 3D embossing folders: Stampin' Up! have decided not to make us wait for new embossing folders & dies while they continue to perfect the design on the new cutting & embossing machine.  These products will still work with whatever die cutting & embossing machine you own, but you may need some workarounds in the short term.  This 3D embossing folder worked in my Big Shot (which is quite a tight roll) with two upcycled shims – a piece of 6″ x 8″ cardboard that comes with our foil packs and a piece of 6″ x 8″ cardboard from a DSP pack.  You may have to try a few combinations to see what works in your machine.
I have been loving the beautiful DSP images – and using them often as centrepieces for my cards.  This fun pink dino is cut straight from the DSP using one of the dies from the Dino Dies set.  So easy, so pretty, so awesome!!!
The thank you sentiment is from another new set in my collection – You Always Deliver.  I loved the font style.  I've used a dino pun sentiment on the inside…
I love that Stampin' Up! included pink dinosaurs in this design.  As a mumma of children who love all the colours in the rainbow, this suite is going to be on high rotation in my craft room!
For more great ideas that started with a page of magnolias and changed into so many other creations, continue the hop with my lovely friend Rachel Palmieri.
If you have some craft time this week, we've love for you to share your project inspired by one of the layouts on page 36.  Use this as your starting point and let your creativity take you the rest of the way.  Click here to visit our CASEing the Catty Facebook group.
Thanks for being with us on this fabulous Sunday!
---
Product List