Hello!  Thanks for joining us for another team hop.  It's awesome to be part of a wonderful group of inspirational crafters.  I know you're going to love what they share with you for this hop.
We welcome Jan Brown today as our guest designer.  It's Jan's first ever blog hop – and we feel so blessed that she agreed to join us.  The team are constantly inspired by Jan's work and often use her tutorial videos for personal projects and classes.  Jan is so generous with what she shares online – thanks Jan!
So, in honor of Jan's contribution to the world of papercraft, this theme is all about her!  We are each CASEing one of Jan B's fancy fold designs.
I have chosen a Tri-Fold design that Jan shared in April.  You can see Jan's original post here.  I added a couple of extra pockets to the fold, so I'm calling it a Tri-Fold Pocket Card.
This style of card was perfect to show off the new Mosaic Mood DSP from the 2019-2020 Annual Catalogue.  It's full of amazing designs that you can cut & use or use as full pages.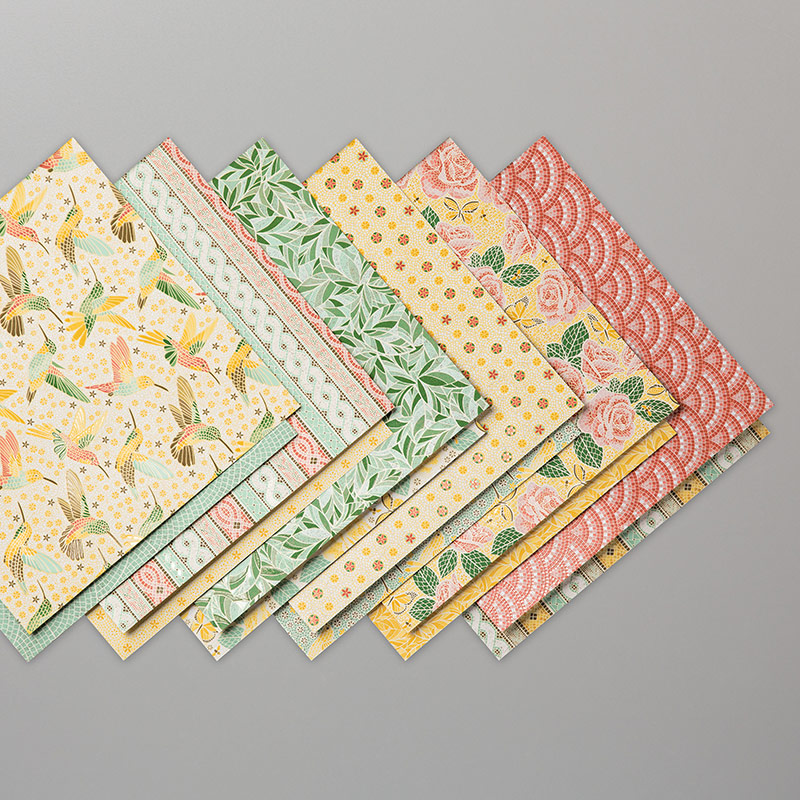 The DSP in the new catalogue is so fabulous!!  If you're in Australia a want a sampler of all the designs, I have a couple of places left in my DSP share.  Click here for all the details.
---
Let me take you on a tri-fold journey.
It starts folded…
And then opens up to reveal 3 panels of beautiful panels…
The left is a Terracotta Tile mat, full piece of DSP, vellum and then carefully snipped roses (from the DSP).  The middle panel is a pocket with a Stitched Rectangle mat in Sahara Sand, a Blushing Bride pocket and cut images from the DSP with a Terracotta Tile sentiment.  The Very Vanilla Stitched Rectangle is for your written message & pulls out of the pocket.  The right panel is another Terracotta Tile mat & full piece of DSP.
I designed this card with extra pockets – one at the front, which left two at the back!  So, it was time to decorate & embellish the reverse side of the card…
With all the pretty pattern & colours of the DSP, I featured yellow & mint as my 'side B' theme.
The left panel is pocket style – a So Saffron mat & full piece of DSP with more So Saffron on the pocket and cut images from the DSP (the roses are layered using segments).  The middle panel is a Sahara Sand mat & full piece of DSP.  The right panel is another pocket, with a So Saffron mat, full piece of DSP and more DSP across the pocket.  In the pocket is a bookmark made from cardstock, DSP & cardstock layers with a cut bird from the DSP and stamped sentiment from the Strong & Beautiful stamp set.  I've used masking tape to cover up 'like a diamond' before I inked it up.
The bookmark can be inserted to sit over the top of the pocket, or completely in the pocket.
This card was so much fun to make!  I'm definitely going to have to make another using a different DSP pattern.  Anything with designs you can cut (like the Mosaic Mood) or a suite with matching stamps/dies will work perfectly.
To make one in your craft room, you'll need a piece of cardstock 12″ x 9″.  Along the 12″ side, score at 4″ & 8″.  Along the 9″ side, score at 6″.  Cut along the bottom score lines to create your flaps (see picture).
Once you've added your cardstock to each panel, you can adhere the pockets in place.
Panel dimensions are 4″ x 6″, so mat size for each panel is 3-3/4″ x 5-3/4″ and DSP size is 3-1/2″ x 5-1/2″.
The pockets measure 3″ x 4″.  Make sure to only adhere down the left & right edge, leaving the top edge free of adhesive so you can put things in there.  Ideas include writing panel & bookmark as shown, gift card, photos, lotto ticket, money – anything less than 4″ x 6″ and flat will fit!
Thank you for hopping with our Paper Adventures Team today.  Next up is my gorgeous friend Siobhan Fitzsimmons and her very clever card inspired by a Jan B video.  Prepare to be dazzled – Siobhan can rarely top at one card & she often makes multiples so you get the full effect of a great idea!
There's a full participant list below in case we lose any of the links over time.
We hope you've been inspired to try a fancy fold or two.  With Jan's full video tutorials, every level of crafter will be able to have a go!
Participant List
Jan Brown (Guest Designer)
Kelly Kent
Siobhan Fitzsimmons
Mandy Depiazzi
Sheila Pybus
Narelle Simm
Lisa Whitehead