It's the final CASEing the Catty blog hop of the current catalogues!  The last hurrah for the 2019-2020 Annual Catalogue!  We officially welcome the new catalogue into our craft rooms on Tuesday (4th June).
As a giant send off, the theme for CTC this week is 'CASE Anything' – absolutely any project you can find in either the 2019 Occasions Catalogue or the 2018-2019 Annual Catalogue.
What started for me as a "I'll just change something retiring to something new" has ended up being a whole spread of change.  Once I started using the new "Follow Your Art" suite, I just couldn't stop!!
From the 2018-2019 Annual Catalogue, I chose project photo for the Coffee Cafe bundle…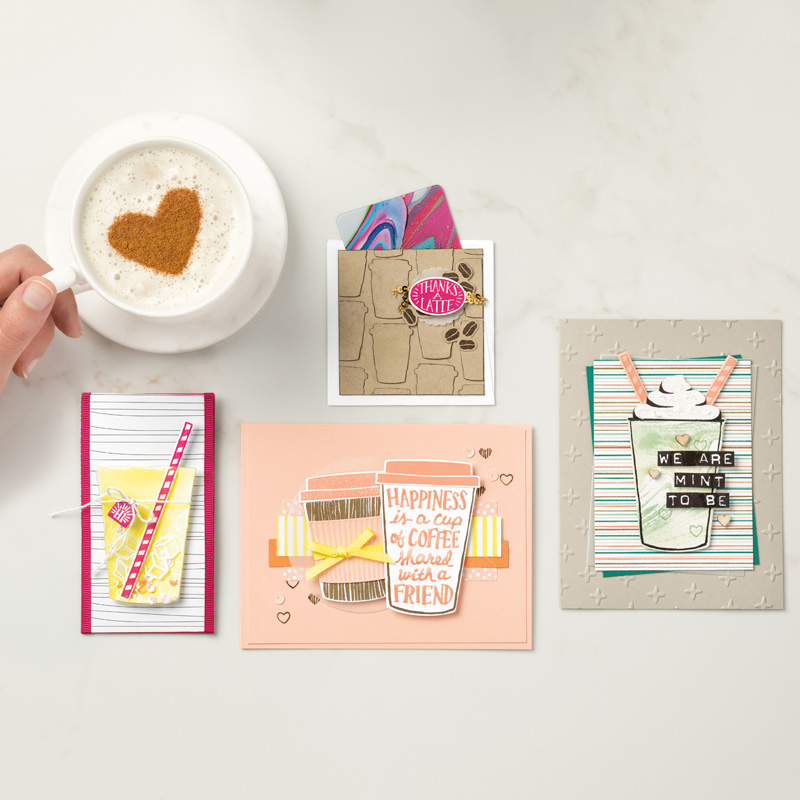 And redesigned the cards in the photo to use the It Starts With Art stamp set, Arts & Crafts die, Follow Your Art DSP and Button Button Embossing Folder.
These stamps & dies are so much fun to work with and perfect for crafters – making them a great choice for cards for your crafty friends & stamping customers.
Here's a close up of each card….
The coordinating colours for this suite are Basic Gray, Blushing Bride, Coastal Cabana, Crushed Curry, Pacific Point & Whisper White.
The suite features images of our favourite SU products from ribbon to colouring tools to reinkers, glue gun, buttons, scissors & more!!!
This suite and the rest of the 2019-2020 Annual Catalogue is available to order on 4th June 2019.  You can place your order in my online store (click here).
I also have a DSP share available for pre-order (limited spots available) which will get you the entire new DSP range in 6″x6″ pieces. You can own it all – including this Follow Your Art DSP featured in this post – at a fraction of the cost!  Click here for all the information on the DSP share.
---
And just like that, CASEing the Catty is done for the 2018-2019 Catalogues.  Join us next week for new action from the 2019-2020 Annual Catalogue!!!
Keep hopping to see what the lovely Michelle Stradz has created as her 'last project'.
See you next week!
---
Product List
** not available until 4th June 2019 when 2019-2020 Annual Catalogue goes live