Happy Monday!  The kids are back at school today after a wonderful school holidays.  I have the pleasure of sharing my love of Stampin' Up! this morning with a class of gorgeous ladies.  We're making three cards – including one of the cards I'm sharing today.
Today's hop is with my international Stampin' Up! demonstrator friends as we all share projects using the same stamp set.  The theme for this hop is Bike Ride, which has coordinating dies.  Both these items are on the retirement list – get yours while stocks last.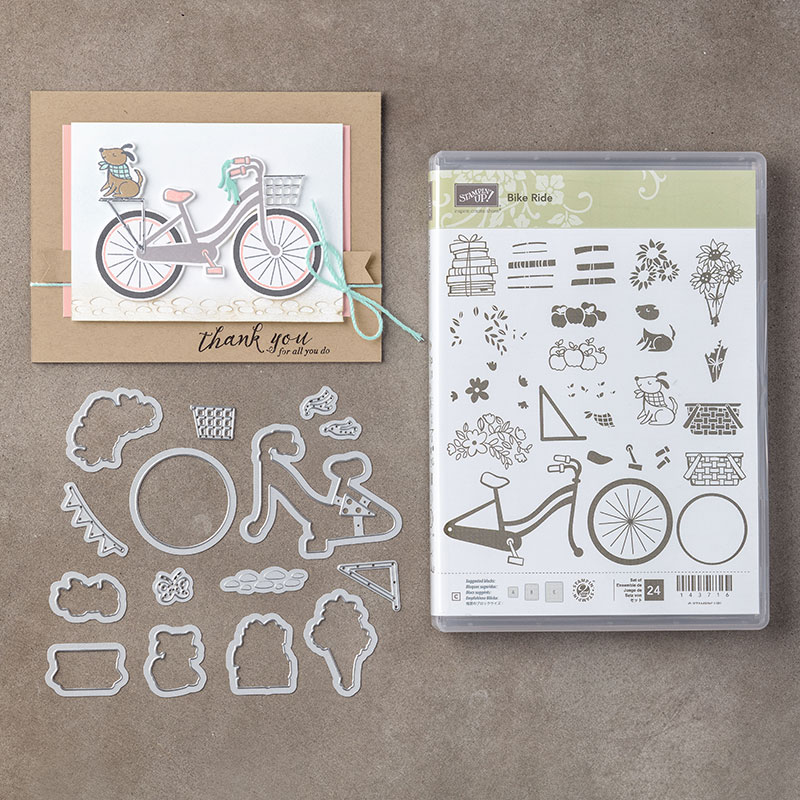 This is one of the sentiment free stamp sets that Stampin' Up! released.  It's designed to be paired with sentiments from other sets.  Because of this, the artwork is full of fabulous images that coordinate with the bike.  This was the inspiration for my trio of cards – using the flowers, books & dog and not the bike to create fun birthday cards using repetitive stamping.
The layout is the one I shared for the Paper Adventures team blog hop this month (click here to see my 'Inspired by Fashion' card).  I love how easy it is to create interesting cards using the Stitched Rectangle Framelits.  Thankfully they are NOT on the retirement list.
Each card has the image stamped on a piece of Whisper White cardstock in Memento ink, colour added and then cut using the Stitched Rectangle Framelit (3rd down from the biggest).
The floral card has been coloured using the stamps in the set – there's a stamp to colour the leaves and also one for the flowers.  Makes it super quick to colour the images.
Colours: Crushed Curry, Flirty Flamingo & Granny Apple Green ink
Finished with a Daffodil Delight frame and Flirty Flamingo sentiment.
The next card uses the book image.  This is my favourite accessory stamp from the set!
Colours: Gorgeous Grape, Highland Heather & Smoky Slate
Finished with a Smoky Slate frame & Highland Heather sentiment
The third card from the trio uses the cute little doggie.  Isn't he just the sweetest!
Colours: Dark Real Red Stampin' Blends – I coloured this one by hand rather than the stamp in the set because I wanted a checkered scarf for him.
Finished with a Real Red frame & Basic Black sentiment.
---
After making these cards, I couldn't resist making a card using the actual bike from the set.  For some reason I find it hard to see this bike in any other colour than Mint Macaron! (I think because this style of bike is so trendy at the moment!).
So, using the same layout, here's my Mint Macaron bike…
I never knew the die set had that cute little banner!  What have you discovered about a favourite stamp or die set just before it retires???
Speaking of retiring, I've snuck a little Lost Lagoon into this card – because I love it and even though something retires, doesn't mean it loses its value.  Stampin' Up! has an eternal lifespan as long as it holds a special place in your heart.  Some sets are worth keeping.  So, one more question – what retired colour, stamp die or other Stampin' Up! favourite have you been unable to part with?
Leave me a comment, I'd love to hear your favourites and then jump on your bike over to Charlet Mallett for her amazing project.
---
Product List