Hello!  I hope you've had a glorious weekend!  We've been in celebration mode this weekend – a continuation of Miss Papercraft's birthday, attending a friend's 40th and using the last of our Christmas gift vouchers (we went ten pin bowling – sadly I lost to Mr Papercraft!!).  I also snuck in a visit to see friends at a craft retreat.
Tonight's the CASEing the Catty Crew are sharing projects inspired by the Happiness Blooms suite and subsequent pages of the Stampin' Up! Occasions catalogue.
We all know I'm slow on the uptake of trends, so it's not a huge confession that I did 't love the Happiness Blooms suite when I first saw it.  But as I've seen more & more samples and added the DSP to my collection, I'm happy to admit that it's grown on me immensely.
So, rather than avoiding this section of the catalogue, I've happily used it as inspiration for one of my Paper Adventures team members birthday gifts.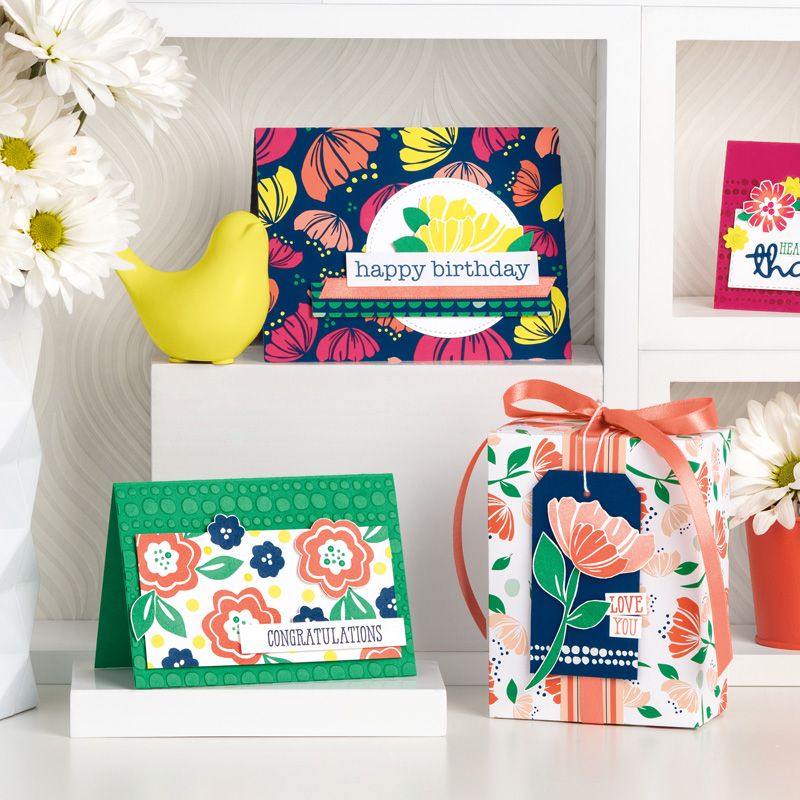 Using the design features of the box on the bottom left, I've created a decorated notebook and coordinating card.
I love how light and bright the featured DSP on this design.  I used a Stitched Rectangle in the place of the tag and added a personalised "G" for her notebook (pictured on the left above).  The ribbon double layered – the Flirty Flamingo from All My Love combo pack and the Grapefruit Grove from the Sale-A-Bration organdy ribbon pack.  As the organdy selection from Sale-A-Bration was so popular, it's no longer available as a redemption choice!!
The "G" is cut from Grapefruit Grove Foil Sheet – another amazing SAB choice.  I just love the colour variation the light reflection throws onto it.  It's available until 31st March or supplies last.  This product is so lovely, I think there's a chance this one will disappear early too!
The elements of the card are very similar – the theme was so lovely I just kept going with it!  Same rectangle, same ribbon choices (this time in a bow) and the same DSP – but turning the striped piece into a featured banner.
The sentiment for this card is from the Well Said stamp set – one I'm fast finding is a craft room staple I keep turning to.
---
Thank you for joining us today for the CASEing the Catty hop.  We love sharing how the beautiful pages of the catalogue have inspired the projects we've made.  To see more, please keep hopping to visit Julia Quinn's super cute Easter treats.
To add your own project to the challenge, join us on Facebook.
Have a fabulous week!
---
Product List