If you've been tracking school holiday fun here at Papercraft HQ, then it's my sad news to tell you that school goes back tomorrow!   I really enjoy school holidays – fun activities, lazy mornings and summer fun!  But all good things must come to an end!
The kids are super excited – and I am too about the potential concept of more craft time during the day!!!  And being a touch more organised with two of the three Little Papercrafts out of the house!!!
I missed the deadline for sign up this week's CASEing the Catty – but thanks to the lovely Kathryn Mangelsdorf whose blog you may have just visited, I snuck in at the last minute to share this cute little gift set I made for a friend.
I drew inspiration from a number of sources for the inside & outside of the gift set!
The calendar and gift box styling are CASEd from my ESAD Blog Hop projects.  See here for the original designs.
I filled the box with tea pot note cards inspired by a gorgeous project I saw by Dee Copus-Read – see her teapots here
The teapot styling was CASEd from this photo in the Sale-A-Bration catalogue…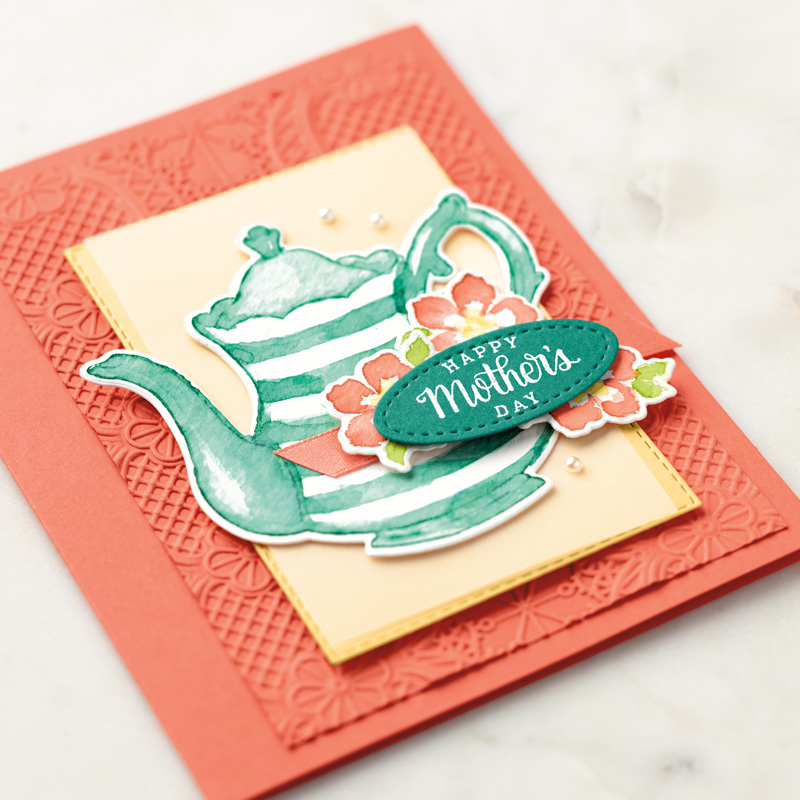 I have been admiring the colouring of the striped teapot since the SAB catalogue landed on my desk!  I don't have the artistic touch required for such amazing watercolouring.  If you'd like to have a go – Alisa Tilsner made a great tutorial – click here to visit.
Instead, I used a tip shared by Artisan Design Team member – Emma Goddard.  Emma simply used an Aqua Painter to draw stripes across the cardstock before she stamped with the tea pot & cut with the die.  Easy but amazing!  I swiped left and then right across each line so I could get some variation in colour profile – and this suited my natural technique of uneven colour application!!
I used this technique in 3 different colours to suit the DSP colours (2 of each) plus on the back of the 3″ envelopes.  It's a snug fit, but the teapots can be convinced to sit nicely in the envelopes (which is perfect!).
To turn the teapots into note cards, I simply folded my Whisper White cardstock in half before die cutting.  I then used by Stamparatus – set up with a carefully placed template – to stamp the teapot image.
I love the collaboration of this project – all the ideas I'd seen from Stampin' Up! and other demonstrators sharing online – helped me to create something special.  And now here I am sharing with you.  It reflected the share what we love so well!
Thank you for joining me today!  And again to Kathryn!
There's a full supply list at the end of this post with links to the online store for easy shopping.  The fabulous teapot framelits are available as a Sale-A-Bration redemption with any $180+ order.  Don't forget to add the Tea Together stamp set (page 49) to your order to own the coordinating set.
Speaking of coordinating sets – did you see that lots more of the Sale-A-Bration stamp sets will have coordinating dies available in March!!!  I'll post more details during the week.
Next up you are off to visit Shannon Kissane and her cute canine creation!
Please join us on the CASEing the Catty Facebook page to join the challenge by sharing your catalogue inspired project.
See you next week!
For all my WA followers with children starting school tomorrow, I hope it's a smooth transition for you & your family!
---
Product List