Hello!  Thanks for joining us for the second Stamp Review Crew hop of August.  This group of talented demonstrators hops on the first and third Monday of each month (and squeeze a bonus hop in if there's five Mondays in a month!).
Today the design team are creating fabulous projects using the Varied Vases stamp set and coordinating Vases Builder punch.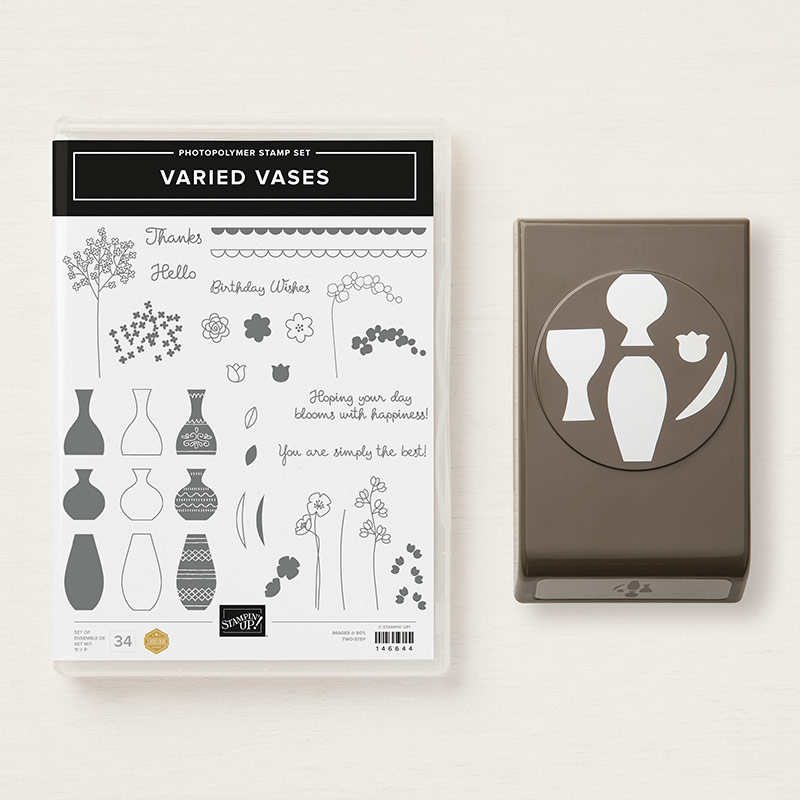 This stamp set & punch were designed by Mary Fish as part of her million dollar sales journey.  You can read more about it on Mary's blog.
This stamp set and punch are just the sweetest and make the most adorable cards!!!
I've combined Mint Macaron and Wood Textures DSP to create this card to share with you.
I'm so excited to have these doilies back in the catalogue!  They come in a pack with one side coloured with Coastal Cabana, Flirty Flamingo, Grapefruit Grove or Old Olive – and the other side is white.  I've used the white side for this card.  They are such a pretty doily design!!!  Page 192 of your catalogue if you've missed their return and want to have a look!
Don't they make a stunning background for the gorgeous simplicity of the vase & flower!
This stamp set gives you 34 pieces of vaes, flowers and sentiments – perfect for creating a range of different designs.  I love that it includes a birthday sentiment (pretty font!) and two step flower options so you don't have to colour.
---
I'm sharing a second card today that doesn't use the Varied Vases stamp set, but does use the Vases Builder Punch.  One of my long-term papercraft loves is punch art and finding fun ways to use punch shapes.  Builder punches often lend themselves to some creative designs.
By turning Mary Fish's signature tulip upside down, I've made a fun Pac-Man card!
A bit of a blast from the past – perfect for all those older generation birthdays!
Pac-Man is a 1/2″ circle and the little dots are from the Elephant Builder Punch (with hand drawn black dots).
The Varied Vases font wasn't quite right for this retro card, so I've pulled out the happy birthday from Lemon Zest.  Stamp Review Crew showcased Lemon Zest last month – did you see it?  Visit my blog post here.
To see more Varied Vases creations, keep hopping with Nikki Spencer.  I love her style and can't wait to see what she's created!
Thanks for joining us!
---
Product List – Mint Macaron Vase
Product List – Pac-Man