Hello!  Welcome to CASEing the Catty #189.
Tonight the design team are CASEing the Love, Thanks & Support section of the catalogue.
I think you're going to be seeing a few Healing Hugs creations – it's definitely one of the most popular stamp sets in the catalogue!
I have used the card at the top of the catalogue photo below to inspire a fancy fold card.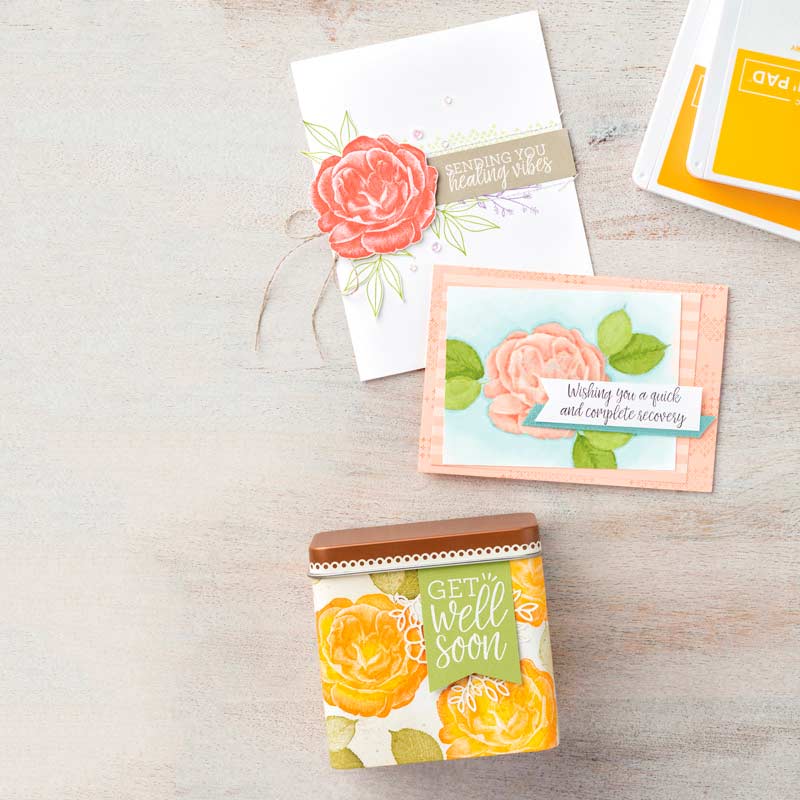 I've used the colours & styling of the sample card, but recreated it as a Twisted Gatefold card.
There are lots of examples on the internet of this style of card (I have no idea who the original creator was).  I used Natalie Lapakko's awesome instructions.  Click here to visit her post.
Natalie is American, so the cardstock sizes were based on US (International sizing).  These are the measurements I used to match Australian cardstock:
Base – Whisper White: 5-7/8″ x 8-1/4″ (14.8cm x 21cm), scored at 2-3/4″ & 5-1/2″ (7cm & 14cm) plus diagonal on the end panels
Front & inside triangle panels – Whisper White & Crumb Cake: 2-1/2″ x 5-3/8″(6.3cm x 13.8cm), cut into triangles
Middle panel – Crumb Cake: 2-1/2″ x 5-5/8″ (6.4cm x 14.3cm); Whisper White: 2-1/4″ x 5-3/8″ (5.7cm x 13.8cm)
You can see why the rose from Healing Hugs has been featuring in your Facebook & Pinterest feed – it's so pretty!
The stamp is naturally textured – a new style called DistINKtive.  If you have an Australian version of the catalogue, the inside cover has more information & stamp examples.
---
To join in this week's challenge, visit our Facebook group.
To see what the design team has made for this challenge, keep hopping by visiting the gorgeous Megan Lenske in sunny QLD!
Thanks for joining us!
If you'd like to add Healing Hugs or any other Stampin' Up! supplies to your craft room, you can shop in my online store – or click on the product links below.
---
Product List