Hello!  Welcome to a Stamp Review Crew blog hop where I am lucky enough to hop with an internationally talented group of demonstrators.  We all use the same stamp set to create projects that we hope will inspire you to create with this set too.
Today's hop is all about the Lemon Zest stamp set – and the coordinating Lemon Builder Punch.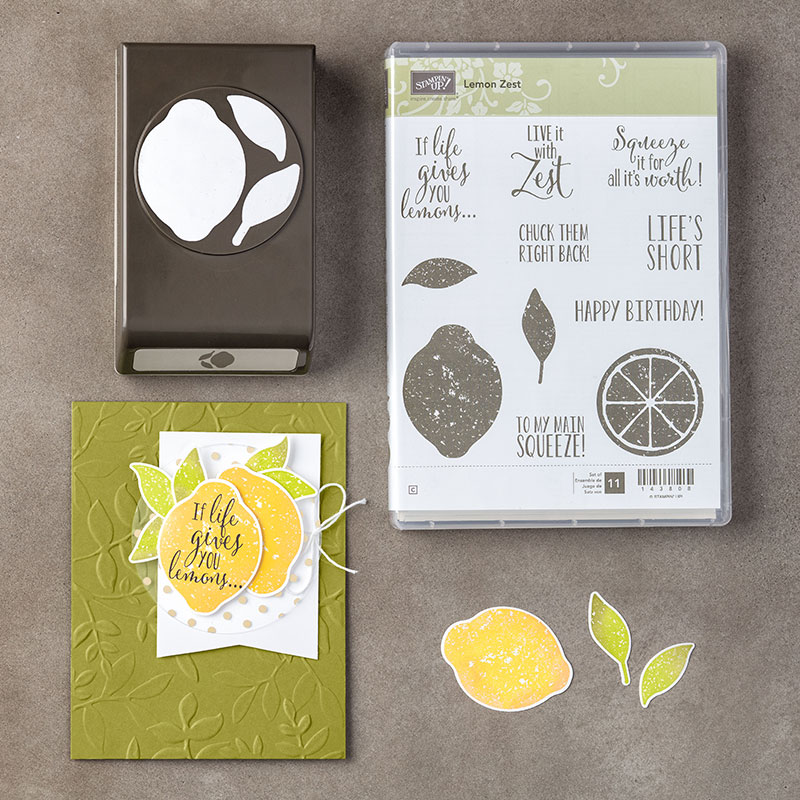 Until just recently, I didn't own this stamp set (and because I don't mind fussy cutting, I still don't own the punch).  Given the zest theme of this stamp set, it never quite made it to my wishlist – until my friend Mandy used the Happy Birthday stamp in a class and all of a sudden I saw it in a new light.
The size & font of the Happy Birthday is just perfect for the style of cards I made, so of course I rushed to order it and have been enjoying it since.
Because it was the happy birthday I loved, that's what I've used for my Stamp Review Crew projects.  I can't wait to see what the other members of the crew have made so I can extend my love of this set!
The first project uses two other stamp sets to make up the Happy Birthday song!
I've added in 'to you!' from Banners For You and 'to my friend' from Little Elephant.
I love how this card turned out – it's fun and shows off that gorgeous Happy Birthday stamp!
---
The second card I'm sharing came about because I needed a first birthday card for one of our Mini Paper Adventurers.
I already had Little Elephant on my table – and it's such a cute set I couldn't resist adding an elephant.
Instead of making a lemon, I've used Stampin' Write Markers to colour the segments and make a background for the elephant to sit on.
And of course, that beautiful birthday stamp front & centre.
In some ways the coloured wheel reminds me of the board game Trivial Pursuit – but I couldn't quite think of a witty enough sentiment to go with it!
For more (traditional & no-so-traditional) uses for this stamp set, please keep hopping and visit the gorgeous Holly Krautkremer in the US.
---
Product List