We all know someone in direct sales, and many of us are customers of this style of home based business.  It's a wonderful way to shop – and the personal touch of your own consultant is the icing on this shopping experience.
Perhaps, you are the superstar of your own direct sales business?  Do you share your love of candles, soap, stamps, oils, make up, skincare with your family, friends & customers?
There's lots of us out there – and often what sets us apart from the other consultants of the same type of product, is our customer service.  Our willingness to go the extra mile for our customers, the expert knowledge we have and the presentation of our business.
A thank you card with an order, beautifully packaged samples, a welcome the team, congratulations on a promotion or sending birthday wishes to a customer or team member – these are all special touches that are noticed and appreciated by our customers & team.
It can be costly and not always easy to find options to fit all these needs. But not anymore!
I'm so excited to share this all-inclusive kit with you that Stampin' Up! have released in their 2018-2019 Annual Catalogue – the Darling Label Punch Box.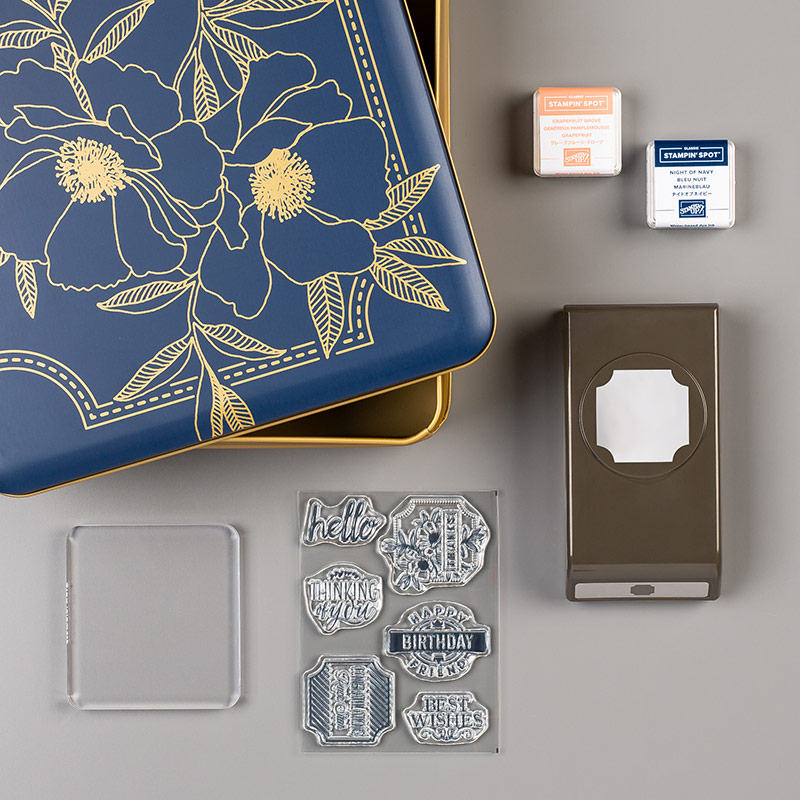 You get a stamp set that covers all your needs – birthday, thank you, hello (welcome), best wishes, thinking of you & congratulations.  An easy to use punch that fits all 6 stamps, together with a block & two coloured inks for stamping.  It comes in a gorgeous tin – which is perfect for storing your supplies or using it for gift packaging once you've unpacked your kit.
The Darling Label All-Inclusive Punch Box is $78. You don't need much else to be on your way to amazing packaging or super cute cards.
Here are some suggested bundles to get you stamping to meet all your superstar needs.
PACKAGING OPTIONS
Let's start with two cute ways to package samples & gifts. Your team and customers will be in awe of this next level touch!

Packaging Bundle 1 – click the links below to add to your online cart
Packaging Bundle 2 – click the links below to add to your online cart
CARD OPTIONS
Next up, let's look at some quick & easy ways to make cards with your kit supplies.
Card Making Bundle 1 – click the links below to add to your online cart
Card Making Bundle 2 – click the links below to add to your online cart
Make it extra special with these add on products (as pictured in my samples)
Extras – click the links below to add to your online cart
---
The stamp sets in kits come on a clear plastic sheet.
If you prefer to store the stamp set in a clear case, here's the printable insert – free to download and print.
Click here to add Clear Mount Stamp Cases to your order.
---
If you have any questions about using Stampin' Up! products in combination with your direct sales business, contact me on my Facebook page to arrange a 1:1 consult (Australian residents only, though feel free to contact me if you're an international direct sales consultant and I can redirect you to a local Stampin' Up! Demonstrator).