Happy Monday!
I'm delighted to be hopping with the Stamp Review Crew today.  It's the first SRC hop of the new catalogue cycle and to give ourselves a little breathing room with our new catalogue orders arriving, we are sharing projects today with a gorgeous stamp set that's carrying over from the 2017-18 catalogue – Beautiful Bouquet.
There are coordinating thinlits for this set which increases the wonderful creative options for everything floral you could ever want to make!!!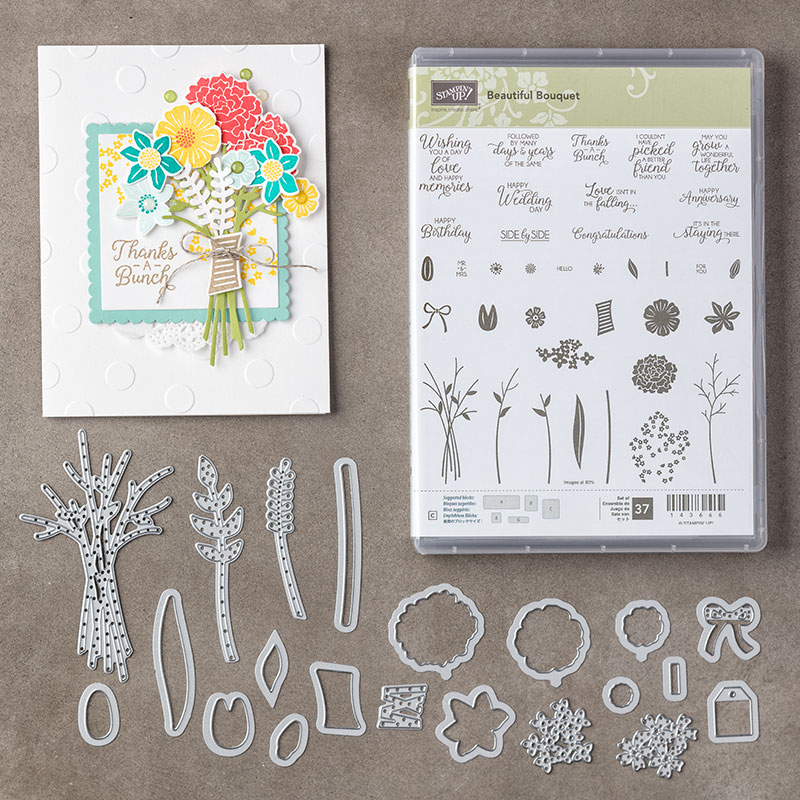 I'm sharing two projects today.  This z-fold card is the first….
I've been wanting to try this layout since it arrived in my mailbox as a birthday card from one of my wonderful Paper Adventures teamies – Siobhan Fitzsimmons.  See her card here.  The full card front z-fold is so luxurious – especailly when layered with gorgeous DSP!
There's so many floral bouquet options you can make with this stamp set – my favourites are tulips.  Mr Papercraft scored lots of brownie points for my tulip birthday delivery!
My tulips are Lovely Lipstick, Crushed Curry & Pineapple Punch.
The tulip colours were a wonderful match to the the bright & fun Garden Impressions DSP.  The reverse patterns in this series are lovely for adding a pop of colour to your project.
While I had the Garden Impressions DSP on my table, I was reminded of my other favourite floral – blue flowers!  The Farmer's Market near us does the most amazing flowers and they often have blue flowers in their posies – always so stunning!
So, this simple, no-sentiment card is an ode to the power of a pretty blue flower!
The blue for this card is the new 2018-2020 In Color – Blueberry Bushel.  Doesn't that colour just pop – especially when paired with white!
I can't wait for you to see what the rest of the crew have shared today using all those pretty flowers!
Next to visit is Jay Soriano from Mitosu Crafts in the UK.
You can find a list of all the Stamp Review Crew participants for this hop on the main SRC blog.  Click here to visit.
Thanks for joining us!
---
Product List