Hello!  I'm excited to be hopping with my fellow Australian & New Zealander Demonstrator friends.  We're all part of a Facebook group called ESAD….
The 2018-2019 Annual Catalogue launched on Friday, so it's the perfect time to share some new catalogue creations with you and get this party started!!!
To download the catalogue pdf, click here.
To browse the online store, click here.
I've had a fantastic time this weekend choosing what items from the new catalogue I'll add to my collection.  This isn't the start of the new catalogue for me though.  I've been enjoying new catalogue #demoperks since April when we attended OnStage.
After OnStage, we had the chance for a little spending spree as part of a product pre-order called Product Purchase Premiere.  I added a number of new products including the super fun Sea of Textures bundle.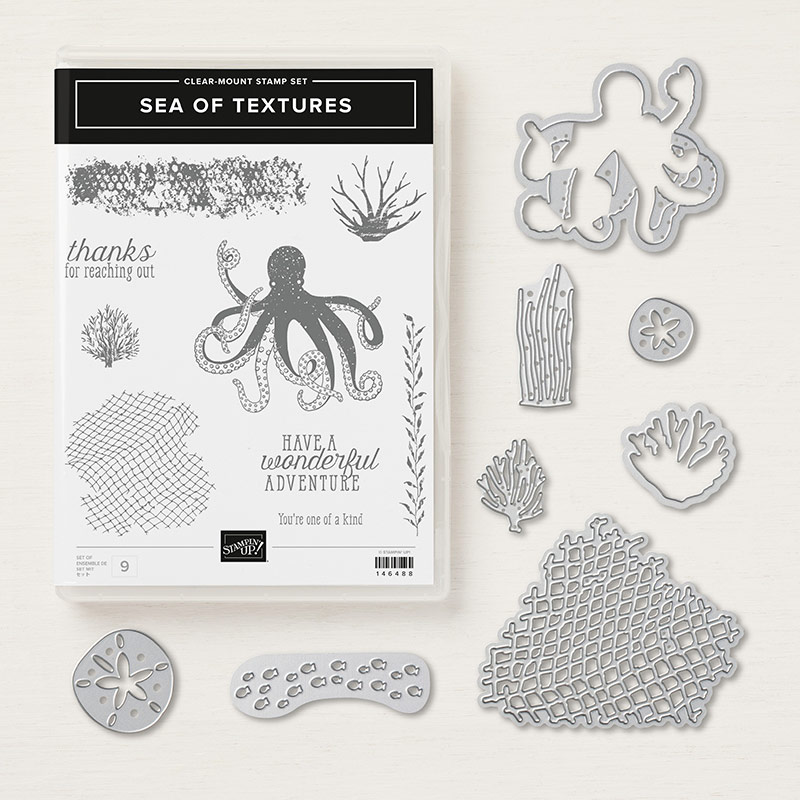 Today I'm sharing with you a card & box gift set I made using the stamp set & coordinating dies.
If you're playing new catalogue eye spy, you'll see the Sea of Textures stamp set, Under the Sea Thinlits, Tranquil Textures DSP & Itty Bitty Greetings stamp set.
The octopus is inked using the Baby Wipe technique in 3 new colours – Coastal Cabana, Gorgeous Grape & Mango Melody.
There's lots of new colours to love – and I'm loving them!!!  The Stitched circle behind the netting is Mint Macaron (so excited to have this return to the range!), the stars are a new colour called Gray Granite and the sentiment label is Soft Sea Foam.
The new colours are easy to add to your collection with new colour bundles for ink pads, markers and cardstock.
There's lots of returning favourites in the catalogue too – like the gorgeous Gable Boxes…
I used the fun fish die to create a peekaboo feature on the box.  You need to gently prise apart the box where it joins to be able to cut the fish – and stick it back together when you're done.
I also ran the whole box through the Big Shot with the Ruffled Embossing Folder.  Embossing the box adds such a cool texture!
---
Thanks for joining us for the ESAD Blog Hop.  There's 27 blogs on the hop today – that's a bundle of new catalogue inspiration!!!
I know you're going to love what Leonie Schroder has made.  Click next to see her fabulous project.
If there's any broken links or difficulties with linking, click on the links in the participant list below to keep the blog hop going.
Blog Hop Participant List
Product List