Sunday again!  Can you believe how fast these weeks roll around???  I'm grateful to have another wonderful week to look forward to (even if 2019 is coming faster than I'm ready for!!!).
Today I'm hopping with the CASEing the Catty Crew, and we are sharing projects inspired by the kits currently available in the Stampin' Up! range.
It's catalogue transition time, so most of these kits are soon to be retired.
Kits are great for all levels of crafters.  For the beginner stamper, they give you the supplies to make cards without having to buy the whole online store!  For experienced stampers, they are the perfect option for taking on holiday, to keep you busy while waiting around at kids sports and because they are just so pretty!
I'm sharing projects made today with the Color Me Happy Kit which was a special release together with the Stampin' Blends.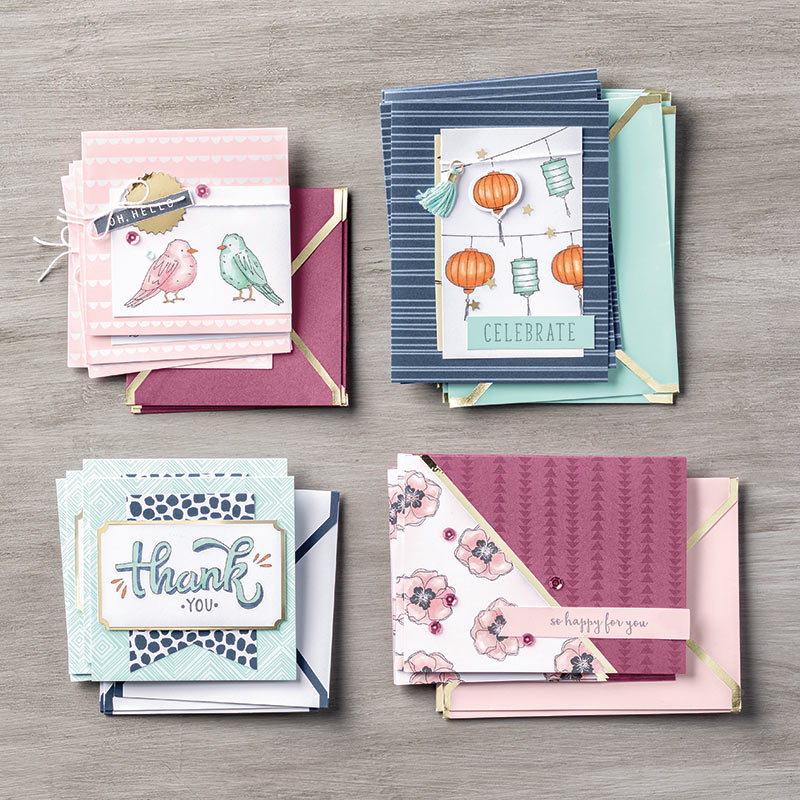 This kit is still available in the online store and features supplies to make 4 fabulous card designs (16 cards in total) in conjunction with the Color Me Happy stamp set.
I've mixed & matched the pieces from this kit using the style of the bottom left design, the envelope from the top right and the birds from the top left to create a pocket style card.
The cute stamps in this set are perfect for colouring.  I've used Stampin' Blends (they are my favourite!!!) but any colouring method will work!  Just choose your ink to match your colouring choice (quick tip: alcohol colouring = water based ink; water colouring = alcohol based ink).
If you think kits are just for putting together the pieces, then you'll be pleasantly surprised how easy it is to create your own designs by mixing & matching.
---
Did I mention how much I love Stampin' Blends?  They've been in unorderable status for a few weeks while Stampin' Up! catch up on manufacturing to meet our crazy demand.  They've be back on 1st June!!!
I'm excited to share that we'll be getting more Stampin' Blends colours in the new catalogue! With 11 new colour pairs joining the collection, there will be 22 colours in total plus two skin tones & a colour lifter marker (Pink Pirouette retired with the current catalogue cycle).
Get ready for these special pens to return to 'orderable' on 1st June 2018 with some Color Revamp storage.
Download, print & get organised using Wood Mount Clear Cases to store your Stampin' Blends.  Rainbow storage is totally on trend at the moment, so for 2018/19, your Blends will be stored in colour tones.
If you don't have the full range, or would like to store in your own unique way, then download the blank template – ready for you to colour your own Stampin' Blends rainbow.
Need cases?  You can order these now from my online store.  They'll be here & ready for when you can order your new Stampin' Blends.
To find the full range of downloadable & printable clear case inserts, click here.
Thanks for joining me and the CASEing the Catty Crew today.  It's always a pleasure to create along with you.  Join CTC challenge #179 by uploading your kit inspired project to our Facebook group.
And for more kit inspired fabulousness, keep hopping to visit the gorgeous Angela Meiritz-Reid in Christchurch…