Happy Mother's Day!!!  I hope it's been filled with all the things that make you happy.
Welcome to one of our final CASEing the Catty hops for the 2017-2018 Annual Catalogue.  It's free range this week to CASE any of your 2017-2018 favourites.
It's a catalogue full of pretty inspiration photos, so always hard to narrow it down!
With new In Colors on the horizon to fall in love with, I was drawn to the friends we made in 2017/18 and this bright selection on page 94 of the catalogue.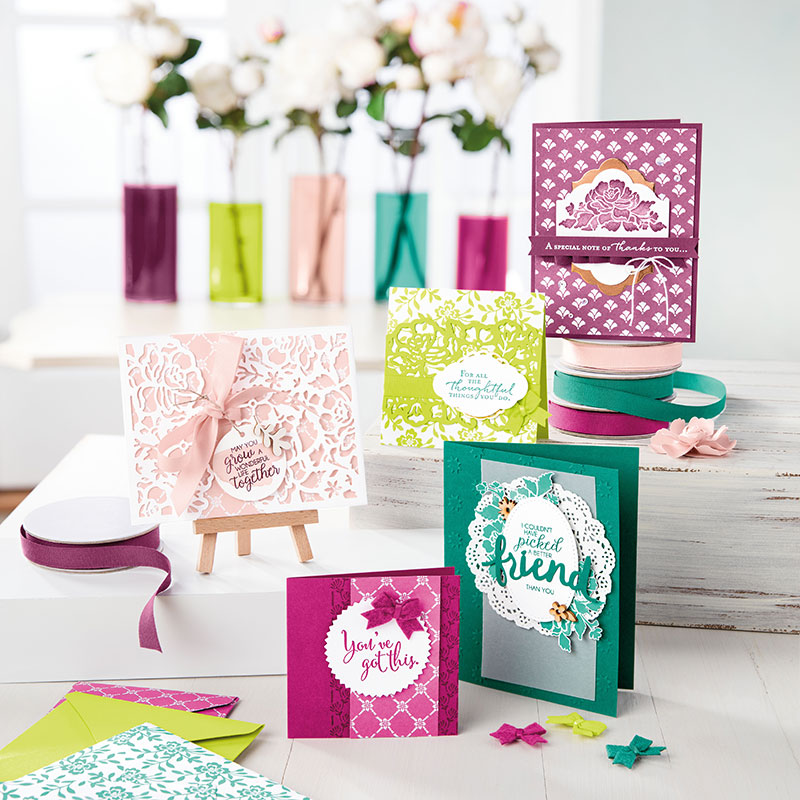 Tranquil Tide is one of my favourite colours and it was this design that formed the basis of my CASEd project.
I used it as the inspiration for Share What You Love shadow box frames.
We made these in our team/demo class on Friday in Tranquil Tide or Rich Razzleberry.  I love hearing how much everyone is loving the Share What You Love suite.  
The centrepiece of the shadow box frame is the Statement of the Heart stamp plus other Share What You Love pretties.  They are all part of the Gotta Have It All Bundle available until 31st May 2018.  All items in this bundle will be available after 31st May as part of the 2018-2019 Annual Catalogue – except this Statement of the Heart stamp set.  This is a pre-release exclusive!!!  It doesn't feature in the new catalogue.  The only way to get it is to order the Gotta Have it All bundle.  Click here to view in my online store.
There's lots of great tutorials for making shadow box frames.  I visited CraftyCarolineCreates – her youtube video is excellent for the shadow box instructions but also turning it into a gift box.  See it here.
To get a rectangle frame, I started with cardstock that was 10″ x 8″.  We scored at 1/2″, 1′, 1-1/2″ & 2″ from all 4 edges. Cut out the 4×4 grid made on each corner.
Caroline has a great tip for making neat corners by scoring at 2-1/2″ (top and bottom) from each short edge (just to the second score line) and then cut tabs in.
To finish as a frame – add adhesive to the outside edge and roll in to create the edges.  Secure the long sides first (sides with tabs) and then the short sides.  Glue dots under each corner help to hold the frame edges in place.
This style of frame is wonderful for decorating your craft room, or giving it someone as a home decor item.
Next on your CTC journey is the gorgeous Sandra Collett in New Zealand.
If you have time this week, we'd love for you to share a catalogue inspired project.  Join all the fun on our Facebook group.
We love seeing what you make each week!  And choosing a CASEing the Catty winner!
Did I mention as well as Mother's Day, May is my birthday month???
Stop by on Tuesday for a fabulous birthday hop with my stamping friends!
---
Product List